Ferrari done Dave's way, where Good is simply Inadequate
Scuderia Rampante Inc. is an Independent Ferrari Sales, Service and Restoration facility based in Erie, Colorado. This is a family owned business that has its only focus on providing the finest service available on all Ferrari's from Vintage to Current production. Dave Helms has been in the Automotive field for 43 years and specialized in the repair and restoration of Ferrari's for better than 40 years.
Dave's career started in the early 70's servicing English sports cars. It soon became evident that attention to the smallest detail provided a finished product that many of his customers were looking for. Building, maintaining and driving race cars was a natural progression in Dave's career. With his race car always running at the end of a session, he spent many weekends fixing and upgrading his fellow competitor's cars. The entry into the Ferrari arena came when a fellow racer required an engine rebuild on a 250 GT PF Coupe. It was that day many years ago that defined the direction and passion that Dave has had since then. Meeting a fellow racer and Ferrari collector, Dr. Robert Bodin, proved to be the beginning of a friendship and business relationship that has lasted for a great many years. Dr. Bodin's shop, World Ferrari, quickly grew from a facility that maintained his incredible collection and a few local Ferrari's to a world recognized service and restoration facility specializing in both daily drivers and rare, exotic racing Ferrari's. Sponsorship obtained from Coors Racing took the World Ferrari Racing Team "on the road", traveling from coast to coast and filling the field at various tracks with 3223GT (250 GTO), 0677GT (TdF), 1521GT (interim TdF), 2291GT and 3143GT (SWB's). Of course there had to be transport to and from the tracks so often a Daytona, California Spider, 275GTB/6c and the likes were used for this unique purpose. It is at this point that a heart felt thank you to Dr. Bodin must be given. It was his guidance and trust that truly defined Dave's life long love for the marque.
Dr. Bodin's introductions to all time Ferrari technician greats such as François Sicard of NART fame, Rick Bunkfeldt, a true Ferrari genius, and Dan Jones, a Ferrari legend in the Midwest provided the invaluable, and all but lost, training on the vintage cars.
A change of climate from the tundra of Minnesota brought Dave and his family to Colorado where he accepted the Lead Ferrari technician position at Ferrari of Denver. Factory training at Ferrari North America and the factory in Italy was added to Dave's training portfolio over a number of years.
With many years of keeping vintage Ferrari's alive and winning at the racetrack, Dave had the honor to be chosen as one of the event mechanics for the Colorado Grand. The event tested the mechanics by presenting the unique challenges of having to repair a broken Pre-1959 exotic car with only the tools and parts at hand on the back roads of the Colorado Rockies.
After years of suggestions from customers the creation of Scuderia Rampante Inc. became a reality in the winter of 2004. The family owned and operated Ferrari and Race Car service facility, is the culmination of a life-long dream with Dave working along side of his family.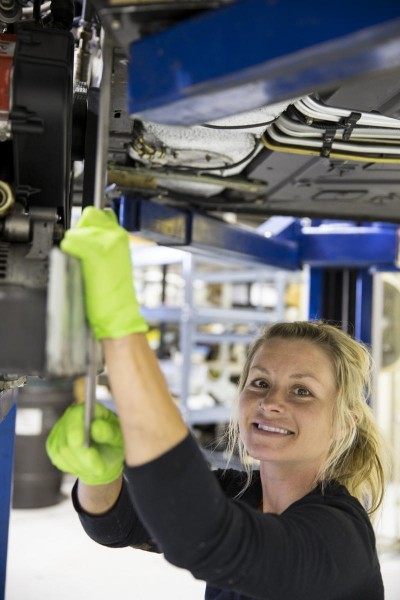 Jenni Helms
Technician
At the age of 7, Jenni Helms was introduced to her first Quarter Midget. Her father, Dave, had her behind the wheel of her pink and turquoise race car, on the banked oval track in Minnesota racing for a number of years. She grew up around cars her whole life, whether it was at the race track with the Quarter Midget, working on Ferraris in the garage with her father, or at Road America in Elkhart Lake, Wisconsin with her family, she is no stranger to these exotic cars. Working alongside her father, Jenni has gained the knowledge and wisdom that is put into these Italian vehicles. At Scuderia Rampante, Jenni is passionate about her family's business and putting everything she has – under her father's tutelage – into perfection for each and every car that comes into the shop.
Without question, Jenni is the premier expert on the installation of the SR Gold Connector Kit. No one has done anywhere close to the number of installations she has. Involved in the GCK project from concept to final production, and continually upgrading the kits with much research and development time invested.
With a passion, mentorship and work-ethic passed down from her father, Jenni was intimately involved in the development and design of the Scuderia Rampante Evoluzione Run-in Stand, being a necessary requirement to test all of the SR Innovation proto-typical designs. This effort also allowed Jenni's keen eye to spot areas that are enhanced by SRI upgrade products.
An American-blooded girl with an Italian heart.